I just watched a
video of Bryan Adams
(*See note below regarding the video link.)
on the Today Show and I'm happy to report that he still sounds and looks great.
I actually met
Bryan Adams
on August 21, 1987 at The Summit in Houston. At the time, my brother and sister-in-law lived in Houston and my brother worked for Budweiser. Since Budweiser was a sponsor of the concert, my brother was able to get backstage passes for him, his wife and me.
There were about twenty of us there (it wasn't an intimate gathering, dammit) sort of standing in a rather awkward circle. Bryan walked around the circle shaking hands, signing autographs and being charming. When he got to me, I had strategically placed by backstage pass sticker over my right breast. I was wearing a sundress. You get the picture. I just pointed at the backstage pass and he blushed, took a step backward and then went in for the signature. I was in Heaven (sneaky Bryan Adams song reference there).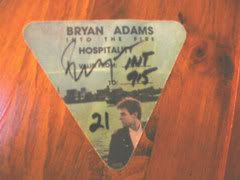 To this day, it is one of the best concerts I have ever seen. His backstage Clark Kent persona totally transformed into a rocking Superman running all over the stage, assaulting the audience with amazing guitar licks and jumping off of speakers.
Lorna, my Canadian friend, he is still one of your best exports. Thanks for sharing.
*Note regarding video link - The link to the video takes you to the directory for all Today show videos and the one which will automatically play is the choice of the Today show. When I clicked it after making this post I got the video of Tom Cruise sparring with Matt Lauer about Ritalin. Search for the Bryan Adams video though. You won't be disappointed.