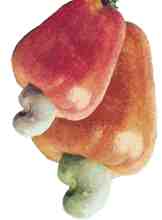 Anyone care to guess what the picture above is? If you don't know, you'll never guess. I was eating cashews yesterday and I realized I didn't know what a cashew looked like
in the wild
. So, of course, I had to look it up. I'm a big looker-upper although I guess the proper term would be a Google-er.
The picture above is a cashew (the part on the bottom). The fruit at the top is called a crab apple and they rot almost immediately after they're picked so they aren't marketed commercially. Only the cashews are harvested.
I had no idea. Ever since I've seen that picture, I haven't eaten another cashew. Perhaps if I could see a picture of a Krispy Kreme coming out of a baboon's ass, I could resist those, too.
*Pic*