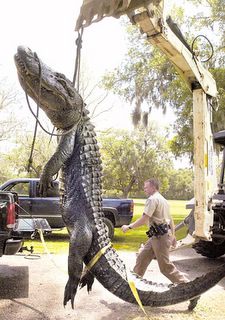 Before I forward things, I always check to be sure they aren't urban legends. If people send me crap, I immediately hit
reply all
and send them the link to the web page debunking that aforementioned crap. I have the Fasted Debunking Fingers in The West.
When Tracey sent us the above picture Friday, I immediately got an e-mail from Jen saying, "Laurie, please debunk this!" Not only could I not debunk it, but I also found the actual newspaper article which I include below.
Jen sent me the same e-mail, begging for a swift debunking, when we received an e-mail advising that the recently elected Pope is the second to the last Pope, right before Pope Satan (as we have come to refer to him in our little work e-mail sewing circle). I couldn't debunk that one either. Hmmm, I suddenly feel another blog post percolating.
By Michael Wright
The Facts
Published April 16, 2005
WEST COLUMBIA — Anita and Charlie Rogers could hear the bellowing in the night. Her neighbors in Bar X Ranch had been telling them they had seen a giant alligator in the bayou that runs behind their house, but they dismissed the stories as exaggerations.
"I didn't believe it," Charles Rogers said.
Friday they realized the stories were, if anything, understated. Texas Parks and Wildlife game wardens had to shoot the beast, which measured 13-feet, 1-inch long.