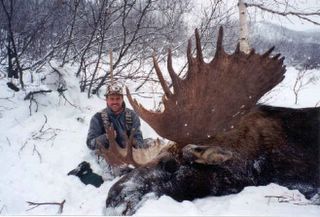 The moose picture and Tara Reid mention (along with the link below showing her left boob) are only to trick the men into reading this post about my mammogram today. (Who am I kidding? You guys went straight to the Tara boob link, didn't you?)
Before I left the office to go to the clinic for the dreaded smushing, one of my friends said she didn't think it was fair that she should have to pay full price for a mammogram since her boobs are so small. This reminded me of my first mammogram. The clinic called me a day or so after the test and informed me I had to go back in, which scared the hell out of me. It turned out that my boobs were so big and dense (a lovely word), that they needed to use the bigger machine. It reminded me of Roy Scheider in Jaws: We gotta get a bigger boat!
Now, for my imitation of Tara Reid on the Red Carpet. (Don't click there, yet. I'm not done.) Before the mammogram, I was put in a little room and told to strip from the waist up and put on one of your standard issue hospital gowns with the opening to the front. They then handed me a clipboard with the same patient history sheet I have to fill out EVERY DAMN TIME I go back for a mammogram. I was having a hell of a time keeping my right boob in the gown while balancing the clipboard and trying to write the SAME DAMN INFORMATION I've written on that wretched clipboard for the last ten years.
I finally gave up and sat there with one boob hanging out while I wrote. I didn't even give a crap. I had been there an hour and a half while my work piled up back at the office and, if anyone walked into that room, they were going to get a great big eyeful of boob. It would have made it all worth my time just to see the look on some old lady's face. However, I got called in for my squishing before anyone came in. Maybe next time.
Okay, now you can go
look at Tara's boob
.
*Pic*